Youth Philanthropy Committee Donates to Charity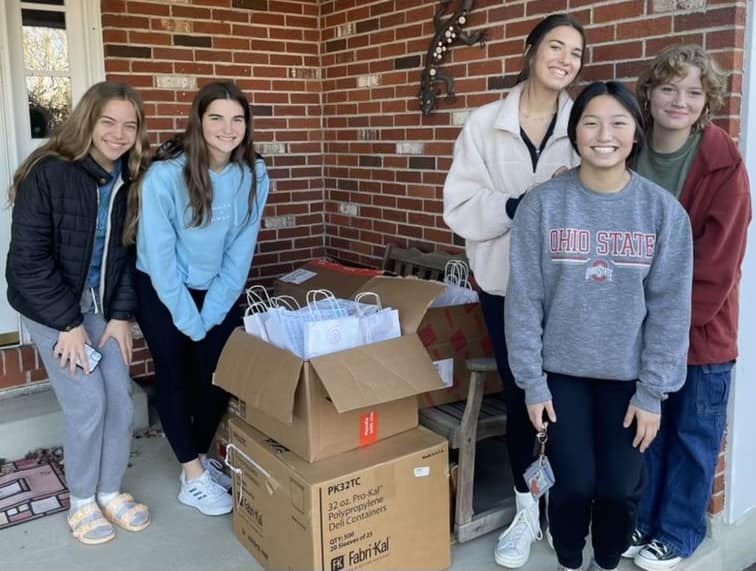 Youth Philanthropy Committee Donates to The Caring Closet
On Sunday, December 4 six members of the Youth Philanthropy Committee of the Hamilton Community Foundation gathered at the Lane-Hooven House to assemble donations for The Caring Closet.
"We decided we wanted to do something for the youth of the community at the holidays," says YPC President, Chloe Christen, Hamilton High School.
The students decorated, stuffed and delivered 80 bags for children served by The Caring Closet.
"We are planting seeds of philanthropic encouragement," says Katie Braswell, HCF Vice President and staff leader of the YPC. "When they come up with community projects on their own we feel like they're getting the message. Hopefully we are creating a group of students who will be engaged citizens someday."
Youth Philanthropy Committee is comprised of up to 20 students from Badin, Hamilton, New Miami and Ross high schools. Throughout their tenure on the Committee the students learn to research community issues and needs affecting young people, plan and conduct meetings effectively, make decisions based on collaboration and teamwork, evaluate the merits of grant proposals and ultimately make decisions to approve or decline grant proposals submitted to them.
The 2022 Youth Philanthropy Committee is: from Hamilton High School Chloe Christen (President), Brielle Combs, Natalie Yarger, Cassidy Cox; from Badin High School Braydon Eldridge (Secretary), Josie Halverson (Community Service Chair), Sophia Williams (Needs Assessment/Communication Chair), Maren Bultman, Connor Hartford, Annie Whalen, Maggie Peter; from New Miami High School Ava Sanders; from Ross High School Natalie Janssen (Vice President), Laney Johnson (Recruitment Chair), Maddi Sheets, Mia Jackson, Eva Hall.