The Women's Fund is a powerful force for women in the Hamilton area! The Fund not only raises money for women's programs, but seeks to involve as many women as possible.
Vision Statement
The Women's Fund of the Hamilton Community Foundation is a leader in uniting efforts to bring about social change that improves and transforms the lives of women and girls in our community.
Mission Statement
The Women's Fund promotes opportunities for philanthropy, collaboration, education, and advocacy ensuring social and economic self sufficiency for all women and girls in Butler County.
The Women's Fund was created in 1997 by Karen Whalen and Joan Witt to create a funding source for organizations in our community serving women and girls. Today the fund has raised more than $450,000 and supported more than $300,000 in grants.  The Women's Fund committee is chaired by Niki Motley and members include Liz Hayden and Nancy O'Neill, Joan Witt, Carrie Zancan. 
To support work of the Women's Fund, please donate today!
Women Inspiring Philanthropy Initiative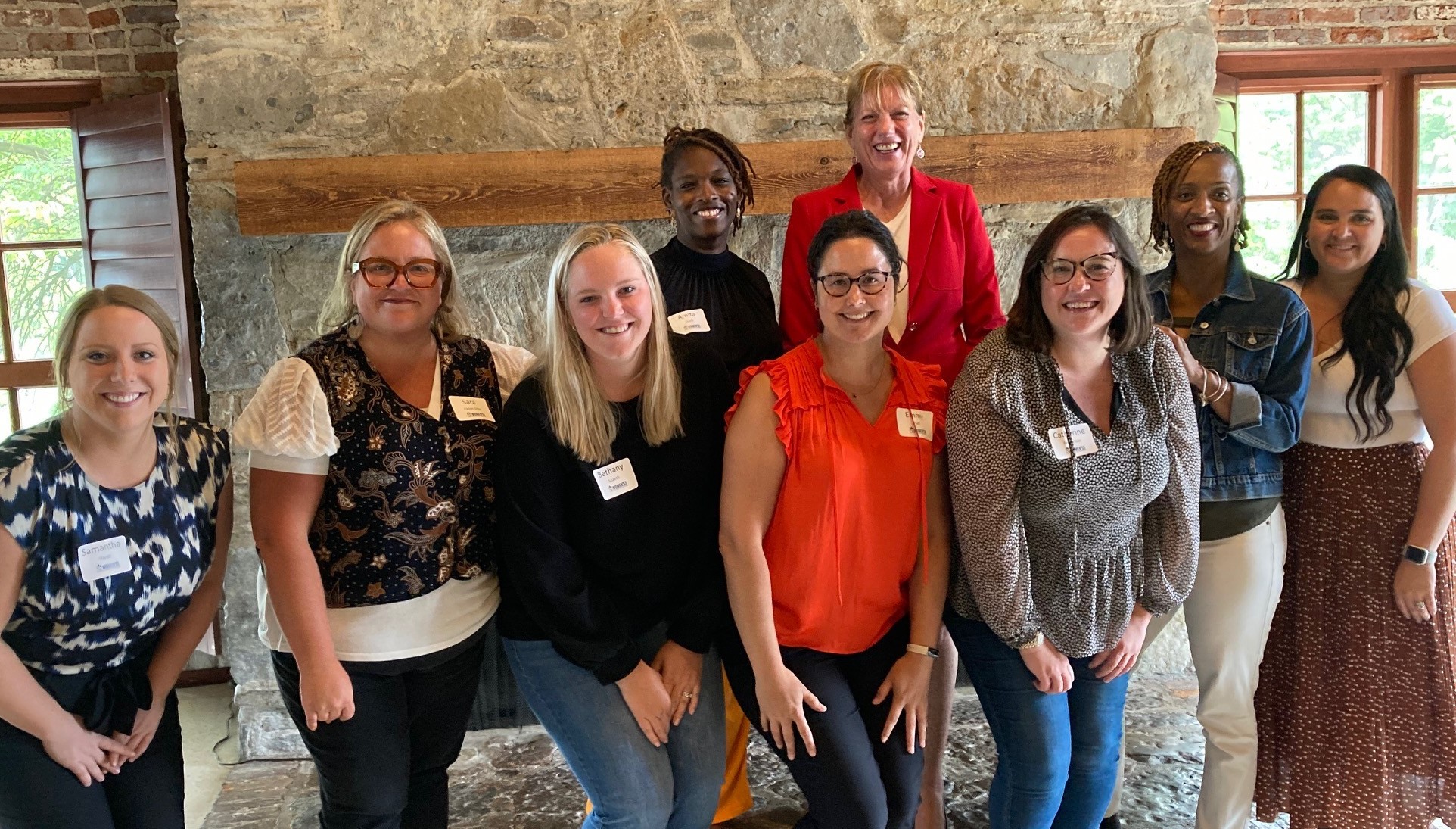 The Hamilton Community Foundation's Women's Fund is thrilled to unveil our inaugural Women Inspiring Philanthropy class 2023!  September 7, 2023 marked the beginning of our journey together!
This transformative 10-month initiative aims to connect these dynamic women with agencies enhancing the lives of our community's women and girls. With site visits and immersive sessions, we're not just raising awareness of the challenges women and girls face, but also fostering the resources and leaders to address them.
Class 2023 participants are:  Ann Marie Cilley, Jennifer Clark, Chamina Curtis, Arnita Gunn, Elizabeth Herzog, Paige Hufford Emmy Piatt, Catherine Rentschler, Sara Silva, Bethany Spaeth, and Samantha Wyatt.
---
ABOUT Women Inspiring Philanthropy
The Women Inspiring Philanthropy Initiative classes are mission-focused with guest speakers, field trips, community exploration and a goal that each person ends the year with a personal giving plan, experience in group-decision making regarding grants, an understanding of what it means to be a thoughtful Board member, a better understanding of gender equity, racial equity and the intersection of race and gender, as well as an interest in continuing to engage with Women's Fund in new ways.  
Mission: The Women Inspiring Philanthropy Initiative is expanding the number of women in our community who are connected to the agencies in our community bringing social change that improves the lives of women and girls in our community.
Vision: The Women Inspiring Philanthropy Initiative is connecting women with issues impacting the women and girls in our community and the organizations aiding them.  Through education, a personal philanthropy plan, and respectful conversation with a variety of women we will develop philanthropic leaders for years to come.
---
Class Size: 15 -20 women ages 23 and older
Timeline: Once per month for 10 months beginning in September (no class in July or December) First Thursday of each month. First class begins September 7th and ends August 1st.
Session length: Two hours – 3pm -5 pm
Personal donation to the program:  $250 ($200 goes to giving fund to be awarded to a charity at the end of the sessions.  $50 is used for any expenses for the program.)
Commitment: Participant and participant employer commitment required.
---
We are looking for women who are curious, open-minded and interested in:
Exploring issues impacting women and girls in our community

Awareness of Nonprofit Organizations serving our community
Evaluate and award grant
Encourage leadership skills and participation, learn protocols, and inspire activism
Have vigorous, thoughtful, and respectful conversations
Create a personal giving plan
Have fun and create lasting relationships!
If you are interested in the class beginning September 2024, please send in your application. 
Women's Fund Grant Awards
Since the Women's Fund began in 1997, more than $300,000 has been granted to organizations serving women and girls in Butler County!
Past Grantees
Big Brothers Big Sisters of Butler County         
Boys & Girls Club of Hamilton
Primary Health Solutions, Inc.
Butler County Juvenile Court
Community Counseling & Crisis Center
Girls on the Run Greater Cincinnati
Hamilton High School
Hamilton Living Water Ministry, Inc.
Hamilton Municipal Court
Miami University Hamilton
Planned Parenthood of SW OH & N KY
SELF (Supports to Encourage Low-income Families)
Talbert House
The Sanctuary Covenant Christian Fellowship
Women Helping Women
Grant Application Process
The Hamilton Community Foundation (HCF) makes it easy for you to apply for a  Women's Fund grant online. All  grant applications are accepted through our online application only. 
Creating your online account
All applicants are required to create an account. We suggest creating your account well in advance of the grant deadline to avoid any last-minute issues.  At the time of registration, you are required to enter the following information:
A username that is an email address
Your contact information
Your organization's information, including the EIN/Tax ID number (required)
Contact information for the organization's Executive Director/CEO
All applications are due by 5pm on the date of the deadline.  You will not be able to submit your application after that time.
A grant applicant creates an account in the Online Grants Application, and then logs on and starts a new grant application.  Your application can be saved as a draft, and when you log on again it's easy to return to that draft, make edits, and submit the application.  Each account maintains a record of the application history that you can access at any time.  
NOTE: Users will be logged out of the system after 90 minutes of inactivity, so if you think you will be done working in the system for a while, click "SAVE" to be safe.  
We recommend that you carefully read the instructions and reference materials found on this page before registering and starting your first application.
Click here to create and/or login to your account. 
NOTE:  Make sure you are applying for the correct grant opportunity since we have several awards. (Your email will be your login and you will create a password .  Google Chrome browser works best with this system.)
If you have any questions, please email Katie Braswell