Fairfield Twp Veterans Memorial to be Dedicated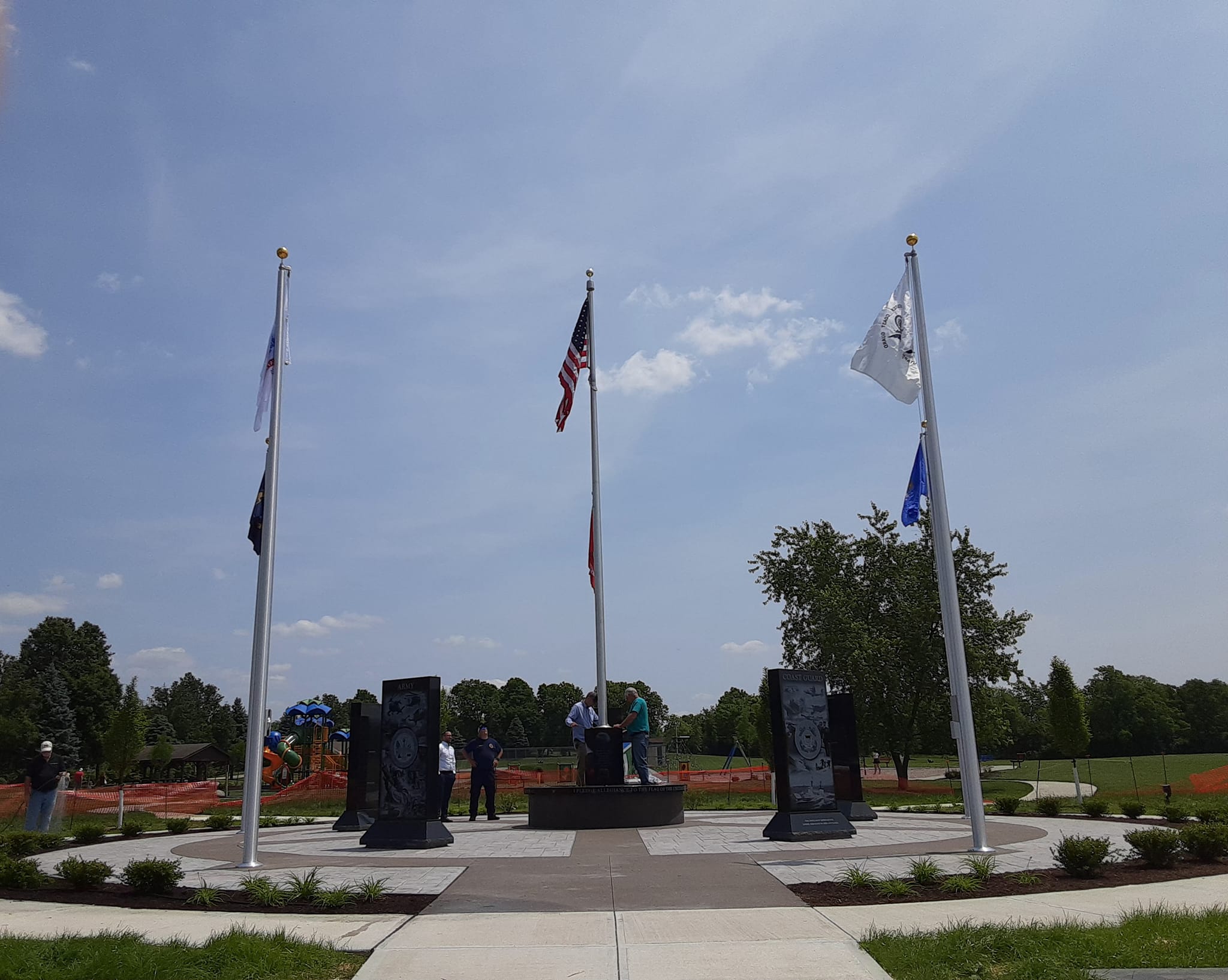 31 May 2023
Veterans Memorial Dedication This Saturday
Fairfield Township - After nearly seven years of planning and development, a significant part of the Fairfield Township Veterans Memorial has been completed. This includes the Center Core Memorial and Seating Circle and the Military Service Branch Monuments by Art in Stone and Flagpoles by The National Flag Company. The concrete work was previously finished by Supracrete including the foundations, walkways and stamped concrete areas. The plaques for the Donor and Local Veterans walls are being processed and installed as rapidly as possible.
Dedication of this major area of the Memorial, including a Ribbon Cutting Ceremony, will be held on Saturday June 3 at 1:30 PM at Heroes Park. The Park is located at 6116 Morris Road near the intersection of Millikin and Morris Roads.  WCPO Channel 9 Good Morning Tri-State Anchor Adrian Whitsett, a US Marine Corps Veteran, will act as Master of Ceremonies. 
Gold Star Parent Adolfo Olivas, whose son Nicholas was killed in action in Afghanistan, will make the primary presentation. Nicholas Olivas will be honored on the Center Core Memorial with others who were killed in action and who had lived in Fairfield Township or whose families now reside here. Their Gold Star Families will also be recognized for their sacrifice.
 The Dedication Program will also feature the unveiling of the Military Service Branch Monuments and the Purple Heart Monument donated by the National Order of the Purple Heart and the Service Branch Flagpoles and Flags. The Honor Guard is will include members of Liberty Township American Legion Post #681 and Fairfield VFW Post #1069.
Special highlights will include a demonstration skydive entrance of the American Flag by Team Fastrax, and the vocal talents of Senior Master Sergeant Christin M. Foley, Superintendent of the Air Force Band of Flight based at Wright-Patterson Air Force Base also vocalist Kay McCabe and trumpeter Aengus Gillespie, students at Fairfield High School.  A Mini-Parade is being planned to begin at Bridgewater Falls Shopping Center at 1 PM, travel through the nearby Lakewood subdivision and end at Fairfield North Elementary School adjacent to Heroes Park.
A video of the Memorial design by Laser Imaging and Design of Lebanon, Ohio and the donor options can be viewed on You Tube: Fairfield Twp Vets Memorial 3 Donation Final. New donations totaling $60,000 are needed to complete the remainder of the Memorial, including the historical benches and entry monuments. Photos tracing the construction at the Memorial site may be viewed on our Facebook Page: Fairfield Township Veterans Memorial.
Donations can be made to the Veterans Memorial Fund at the Fairfield Community Foundation,700 Wessel Drive, Suite A, Fairfield, OH 45014 or on-line: www.fairfieldcommunityfoundation.org
###