First Financial Bank Makes Local Gift to Foundation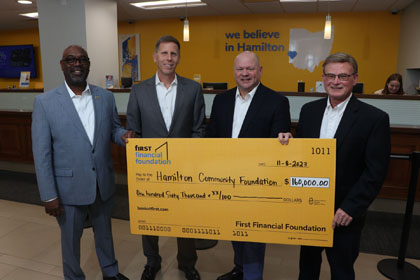 First Financial Bank Makes Significant Gift to Hamilton Community Foundation for Local Grants
Hamilton, OH – The Hamilton Community Foundation will have additional dollars to grant in the community in the next few years thanks to a generous $160,000 gift from First Financial Bank to create a fund to support local efforts.
The gift, to be granted over four years, represents the bank's commitment to Hamilton.
"At First Financial, we believe there's always an opportunity to help others succeed. We're proud to be dedicated to and investing in the economic growth and stability of the communities where we live and work," says Roddell McCullough, Chief Responsibility Officer for First Financial Bank.
Grants will be focused on the funding priorities of First Financial Bank: Neighborhood Development, Workforce Development and Education, and Culture and Arts.
"We are really pleased to be collaborating with First Financial Bank to provide  grants for local organizations," says John Guidugli, President and CEO of the Hamilton Community Foundation. "We are always looking for ways to put more money back into the community and this boosts our granting capacity over the next four years."
Organizations will apply for the First Financial Bank grants through the Foundation grant portal beginning January 1, 2024. The annual grant amount is $40,000 each year for four years.
"Ideally multiple recipients will receive grants" says McCullough, "But we are open to one large project if it is having the desired community impact."
First Financial Bank already makes grants through the First Financial Foundation. The difference with this money is that where the Foundation grants in multiple states and communities, this Fund is focused specifically on Hamilton.
The Hamilton Community Foundation will house the First Financial Bank Fund and will facilitate the granting process.
Founded in 1951, The Hamilton Community Foundation (HCF) has the largest collective impact on the quality of life in Hamilton, Ohio. By professionally managing more than 1,000 individual, family and corporate funds, as well as nonprofit agency endowments, the Foundation awards more than $5 million in grants and scholarships annually. HCF works to address new and emerging issues of community concern, while remaining focused on health and social issues, education and community revitalization. As the largest community foundation in Butler County, HCF is a public charity with $140 million in assets.
About First Financial Bancorp.
First Financial Bancorp. is a Cincinnati, Ohio based bank holding company.  As of September 30, 2023, the Company had $17.1 billion in assets, $10.6 billion in loans, $12.9 billion in deposits and $2.1 billion in shareholders' equity.  The Company's subsidiary, First Financial Bank, founded in 1863, provides banking and financial services products through its six lines of business: Commercial, Retail Banking, Investment Commercial Real Estate, Mortgage Banking, Commercial Finance and Wealth Management.  These business units provide traditional banking services to business and retail clients.  Wealth Management provides wealth planning, portfolio management, trust and estate, brokerage and retirement plan services and had approximately $3.3 billion in assets under management as of September 30, 2023.  The Company operated 130 full service banking centers as of September 30, 2023, located in Ohio, Indiana, Kentucky and Illinois, while the Commercial Finance business lends into targeted industry verticals on a nationwide basis.  Additional information about the Company, including its products, services and banking locations, is available at www.bankatfirst.com.