Fund Raising for Small Nonprofits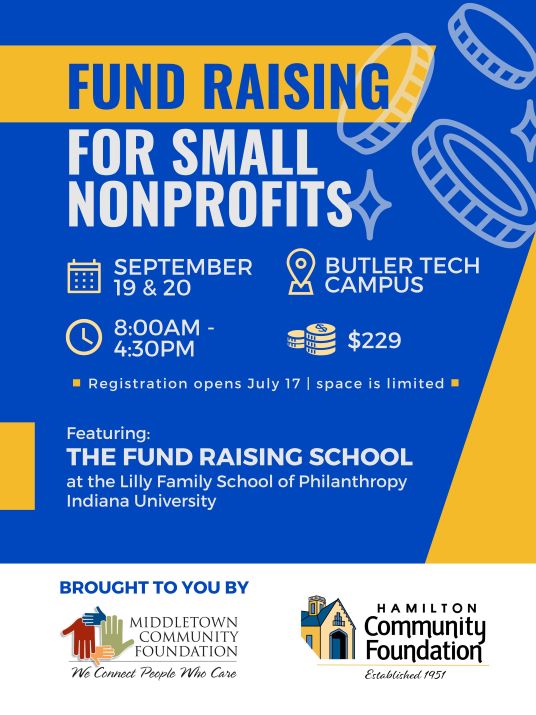 Local Nonprofits Encouraged to SAVE THE DATE for Unique Learning Opportunity
Hamilton, OH – The Hamilton Community Foundation is partnering with the Middletown Community Foundation to provide a seminar for local, small nonprofits.
The seminar, titled Fund Raising for Small Nonprofits, will bring experts from the Lilly Family School of Philanthropy at Indiana University, The Fund Raising School, to the Butler Tech campus for a 2-day learning opportunity.
"We are pleased to be partnering with the Middletown Community Foundation for this seminar," says John Guidugli, President and CEO of the Hamilton Community Foundation. "Providing local organizations with the tools they need to succeed is part of our work as a Community Foundation. This particular opportunity is one not to miss if you are a local, small nonprofit that serves the Hamilton, Fairfield, Ross and Middletown communities."
The seminar will take place September 19 & 20 at Butler Tech from 8:00 am to 4:30 pm. To register go to https://hcfoh.fcsuite.com/erp/donate/list/ticket
Space is limited.
Founded in 1951, The Hamilton Community Foundation (HCF) has the largest collective impact on the quality of life in Hamilton, Ohio. By professionally managing more than 1,000 individual, family and corporate funds, as well as nonprofit agency endowments, the Foundation awards more than $5 million in grants and scholarships annually. HCF works to address new and emerging issues of community concern, while remaining focused on health and social issues, education and community revitalization. As the largest community foundation in Butler County, HCF is a public charity with $140 million in assets.