Hamilton Community Foundation Awards Scholarships to College Students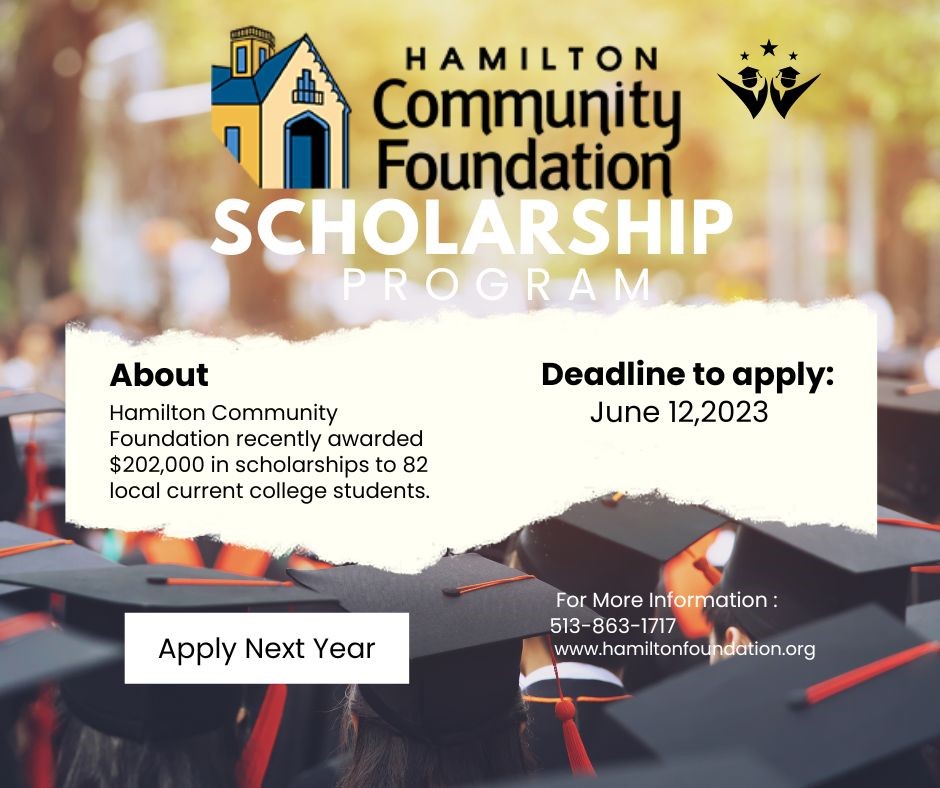 HAMILTON, OHIO – August 3, 2022 -- The Hamilton Community Foundation recently awarded $202,000 in scholarships to 82 local current college students. These annual scholarships assist with college education beyond the first year.
Current college students include Sophomore, Junior, and Senior years of undergraduate education, as well as students in law school, medical school, or a master's degree in criminal justice.
"I will be able to continue paying for my studies and avoid going far into debt thanks to this scholarship. I feel incredibly delighted to have been chosen as the Brown/Latta Education Scholarship recipient. Thanks to your scholarship, I now have the time and freedom to improve my abilities, continue my education, and broaden my professional options without having to work full-time to support myself," said Anna Cardwell, Brown/Latta Education Scholarship recipient.
"With your support, I will be able to focus on my coursework and research, instead of worrying about taking on loans or an additional job to cover my cost of living. Local students, including myself, are lucky to have such willing donors, like Mr. Leland D. Johnson, to help ease their financial burden in the pursuit of higher education," said Leland D. Johnson Memorial Scholarship recipient, Katelyn Rousch. "Your generosity is inspiring, and I hope that I will have the opportunity to give back to this community in the future."
"Thanks to the many donors who give generously to provide scholarships, together, we are having an impact in the lives of our students and their families, which ultimately impacts our community," said John Guidugli, President and CEO of Hamilton Community Foundation. 

About Hamilton Community Foundation
Founded in 1951, The Hamilton Community Foundation (HCF) has the largest collective impact on the quality of life in Hamilton, Ohio. By professionally managing more than 900 individual, family, and corporate funds, as well as nonprofit agency endowments, the Foundation awards more than $6 million in grants and scholarships annually. HCF works to address new and emerging issues of community concern, while remaining focused on health and social issues, education, and community revitalization. As the largest community foundation in Butler County, HCF is a public charity with $140 million in assets.
###
Media Contact: Katie Braswell, Hamilton Community Foundation
(513) 805-0220