Mini Grants 4 Teachers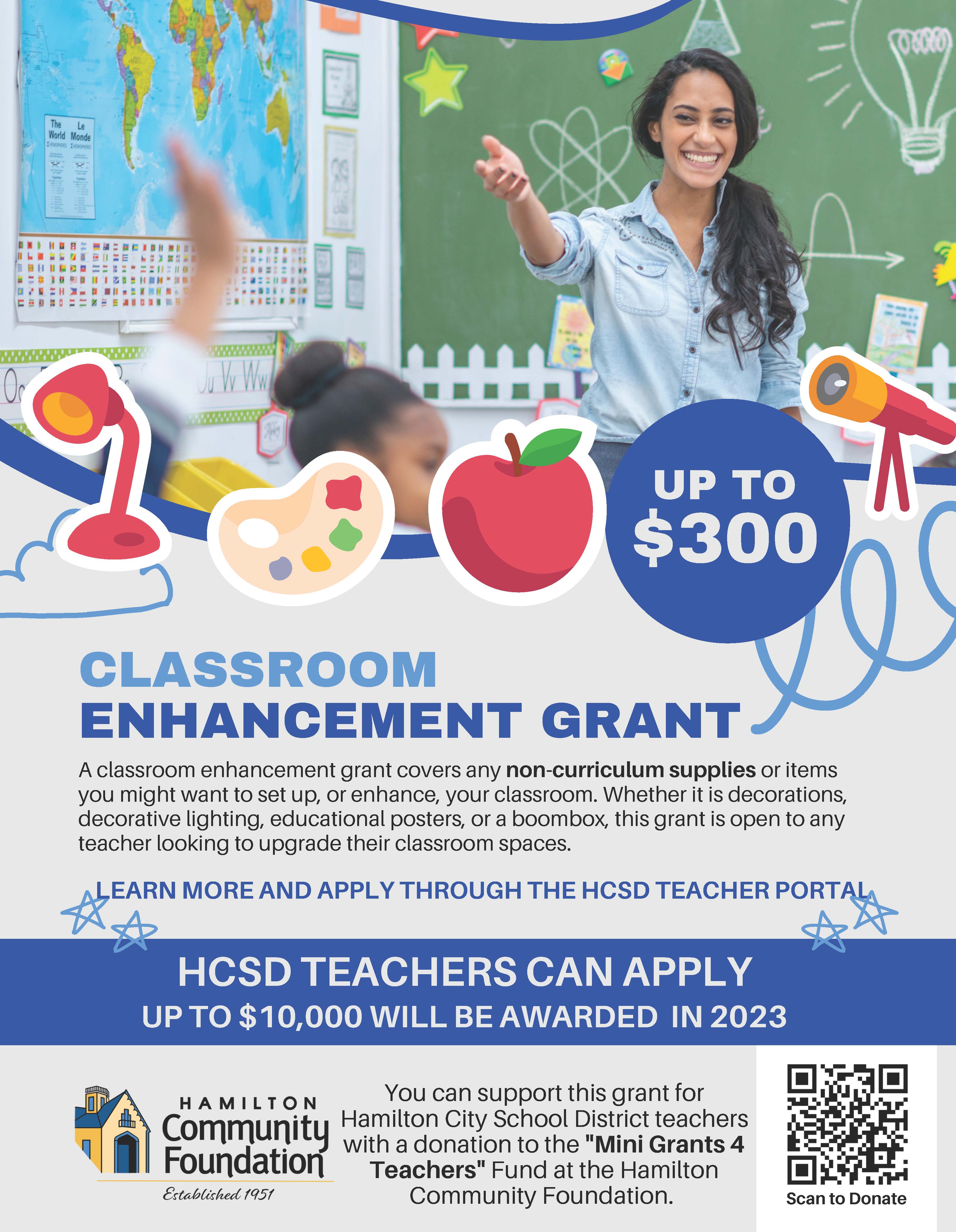 Hamilton Teachers Are Eligible for Classroom Grants
Hamilton, OH – As a new school year approaches teachers will be looking at ways to decorate their classrooms to best engage students. For many teachers the cost for this décor will come out of their own pocket. Now teachers have an avenue for financial assistance.
The Mini Grants 4 Teachers Fund at the Hamilton Community Foundation is offering grants to teachers in the Hamilton City School District of up to $300 for classroom enhancements.
"We know that the learning environment is an important part of the learning process," says John Guidugli, President and CEO of the Hamilton Community Foundation. "Providing assistance to local teachers is what this fund was created to do, and we hope this grant makes a difference in local classrooms."
The mini grants can be used to purchase non-curriculum supplies for the classroom such as decorations, lighting, educational posters, etc to upgrade classroom spaces. Teachers in the Hamilton City School District can apply for the grants through the District portal. The Foundation looks to award up to $10,000 for this program this year.
The Mini Grants 4 Teachers Fund was created to support local educators with mini classroom projects. To support this initiative, go to https://hcfoh.fcsuite.com/erp/donate/create/fund?funit_id=2783
Founded in 1951, The Hamilton Community Foundation (HCF) has the largest collective impact on the quality of life in Hamilton, Ohio. By professionally managing more than 1,000 individual, family and corporate funds, as well as nonprofit agency endowments, the Foundation awards more than $5 million in grants and scholarships annually. HCF works to address new and emerging issues of community concern, while remaining focused on health and social issues, education and community revitalization. As the largest community foundation in Butler County, HCF is a public charity with $140 million in assets.