Work Starts on Marcum Park!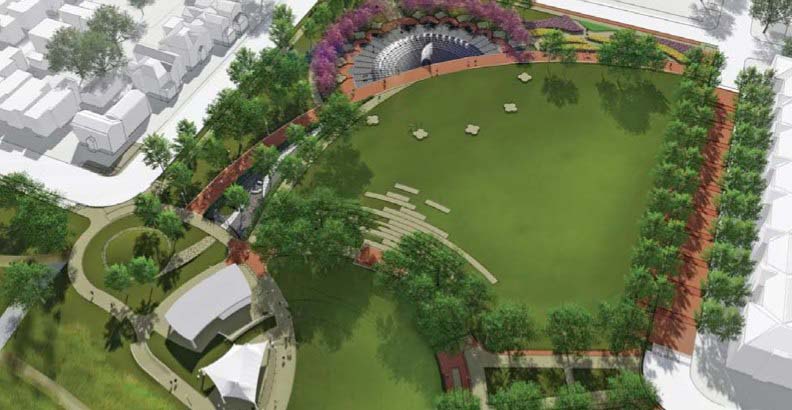 Along with Spring flowers, Hamilton residents are noticing another recent development -- the start of work on Hamilton's new downtown park! As the weather warms, the community will witness progress, with fall as the completion goal.
Joe and Sarah Marcum's gift of $3.5 million to the Hamilton Community Foundation last year will result in the six acre Marcum Park on the site of the former Mercy Hospital.
"That ground has meaning for our family," said Joe Marcum, who says three of their children were born at the former Mercy Hospital. "The hospital may not be there anymore but the memories sure are." So when the Marcum's were approached last year by John Guidugli, president/CEO of the Hamilton Community Foundation, and City Manager Joshua Smith with a request to help fund the vast majority of the park expansion on the site, it immediately felt right.
This is the result is the largest-ever private donation for a park in Hamilton. Marcum Park will expand the current area known as RiversEdge Amphitheater to the east on the greenspace bound by N. Second, Dayton, and Buckeye Streets. "It's a wonderful thing to have a central area where the city can come together and enjoy a nice park. It will add interest to the development of the downtown area. This will help Hamilton to be more dynamic," agreed Marcum. "I want it to be a park that is both utilitarian and a thing of beauty." He added that attention is being given to landscaping details and that even the types of trees are being carefully chosen.
According to Guidugli, the new park fits perfectly with Hamilton's other recent revitalization projects as well as the Foundation's strategic plan, specifically the goal of enhancing community quality of life. "It is one more way to connect people to each other and to the growing vibrancy of our downtown," said Guidugli. "The Marcum family is a strong, long-time supporter of the City of Hamilton and the Foundation."